PPC - Pay Per Click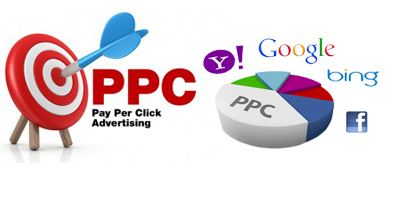 PPC (Pay Per Click) Management and advertising is very effective for any online business, It's a time consuming process to ensure the best result in Digital marketing. While creating a campaign it requires a professional knowledge and expertise to make the Adds more effective with the process of continuous monitoring and optimisation. PPC is the contraction of pay for every click which implies that you need to pay some Amount on every single click on your ad. You can begin pay for every click battle at any time to enhance your business enquiries. There are various ways to start your paid campaign like Google Adwords, Yahoo distributer, Facebook Ads, Msn Adcenter and Linkedin Ads through which you can find your desired client.
A Pay Per Click (PPC) campaign has become one of the quickest and most affordable approaches in the field of digital marketing to Promote your products online. Google is acquiring more than 98% of its income through Google Adwords just and they are completing great in internet advertisement. Google constantly shows appropriate ads to the user what they are searching for. Paid search promoting in Google is the speediest and most controllable approach to get your site to the highest point of the search queries when individuals are searching for your sort of business.
Why Choose Us?
In Aimax Provider, your adwrods account will completely operated by our certified professionals and will make sure to serve you the best result for your business
Project pre-analysis before starting
Pay Per Click consultant for PPC campaign management
Account set-up and PPC campaign management
Extensive keyword research
Conversion tracking verification to track ROI
Competitive research
Weekly performance report
Landing page recommendations
Regular Conversion optimization
Assistance with multiple ad networks: Google, Yahoo, Facebook, etc
On-going monitoring & optimization
Ad copy A/B testing
Landing page assessment, design and A/B testing
24x7 supports
Aimax Provider PPC Management Can Help You:
Reduce your cost - per - click
Protect your brand
Raise your quality score
Target your local market
Produce more qualified leads for less money
We can help you in every aspect of your business and if you already have PPC accounts that you would like us to manage then you can Request a Quote for PPC audit here.